Hanoi is full of culinary traditions with the influence of Chinese, Japanese and French besides the already rich history of Vietnamese gastronomy. It is home to many Vietnamese world famous original dishes such as Pho, Banh My, Banh Cuon, to name a few. Take a look at these eleven restaurants showcasing Hanoi's reputation as a well-deserved food paradise.
1. Bun Cha Dac Kim: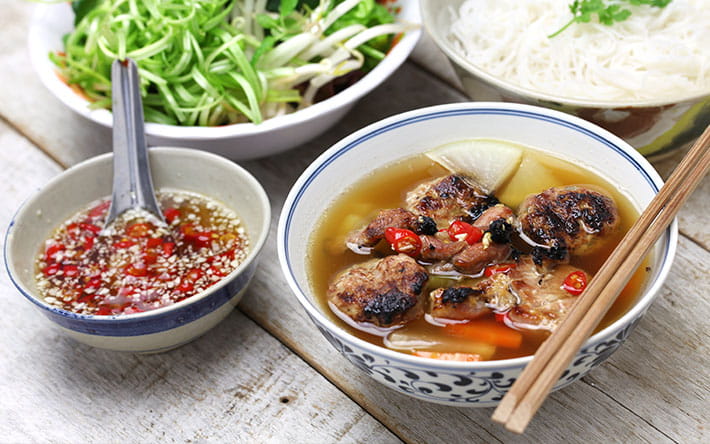 This is a family run restaurant that has over 50 years of tradition. The restaurant offers Bun Cha, a local Hanoi specialty with round noodle (Bun), BBQ pork (cha), garnished with lettuce and served with dipping sauce. The dipping sauce is probably the secret of the dish which is a miraculous blend of fish sauce, vinaigrette, sugar and garlic to a perfect ratio. There can be slices of green papayas and carrot in the sauce to accompany the meat bite as well. The harmony of crunchy fresh herbs, sweet and well spiced grilled pork and round noodle all in the sauce will leave you a hard-to-forget meal.
Address: 01 Hang Manh, Hoan Kiem. Opening Time: 08:00-21:00
2. Bun Bo Nam Bo: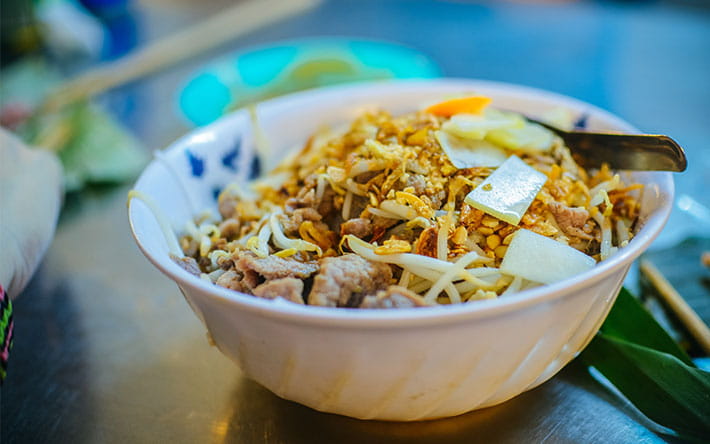 Just like the name of the restaurant, Bun Bo Nam Bo is a dish made of marinated beef with round noodles and a sweetened fish sauce. Vegetables, herbs and peanuts are added to complete the meal. This is one of the best authentic street foods in Hanoi with a little mix from the south. The restaurant has both locals and tourists coming in enjoying the dish, which is worthy of note as it can be considered an accomplishment.
Address: 67 Hang Dieu, Hoan Kiem, .Tel: +84 02 4 3923 0701. Opening Time: 07:30-10:30.
3. Cha Ca La Vong: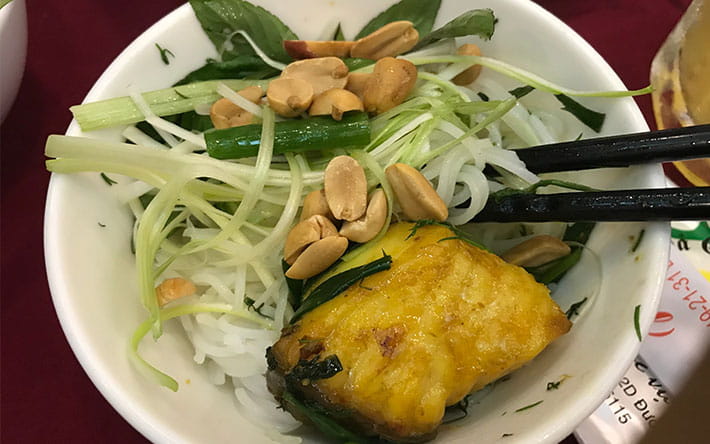 Cha Ca La Vong is a 100 year old restaurant and considered a famous fine dining place in Hanoi in the old days. The only food that is served here is grilled river fish together with a plate of fresh rice noodles, herbs and peanuts. The combination of ingredients makes up for an intriguing taste. Normally the dish is served with fermented shrimp paste however if you cannot stand the smell then a fish sauce will do just fine.
Address: 14 Cha Ca, Hoan Kiem, . Tel: 024 3825 3929. Opening Time: 11:00-22:00
4. Cau Go: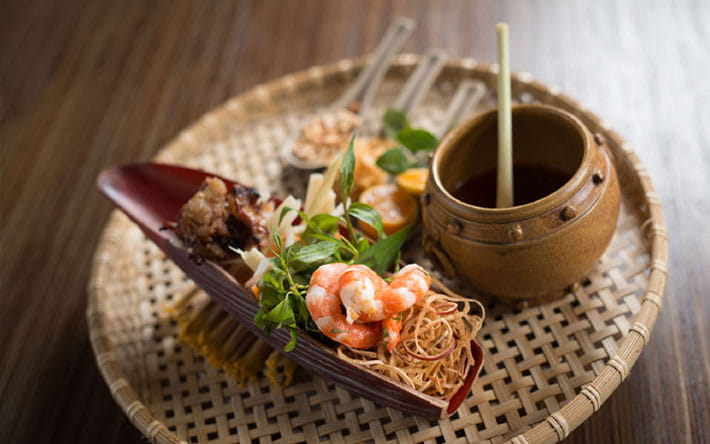 Cau Go is a restaurant where you can enjoy authentic Vietnamese food. Dishes are prepared freshly and balanced with special herb flavors. The signature meals include tofu with chili and lemongrass, crabs with tamarind sauce and crispy spare ribs with eggplant. The restaurant has a beautiful view over the Hoan Kiem Lake from the outdoor area. As a result, the rooftop terrace has become one of its selling points.
Address: 73 Cau Go Tel: 024 3926 0808. Opening Time: 09:30-23:00
5. Quan An Ngon:
The best way to experience all of the regional specialties across Vietnam is to have an expansive dinner at Quan An Ngon. This restaurant offers all kinds of appetizing local cuisine in one place. Different food stalls are situated around the restaurant where you can witness the dishes being prepared freshly. Some of the popular traditional meals include Banh Xeo (fried pancake with shrimp and pork), Bun Thang (rice noodle soup with shredded chicken, fried egg and sausage) and Pho Ga (chicken noodle soup).
Address: 18 Phan Boi Chau, Cua Nam, Hoan Kiem. Opening Time: 07:00-22:00. Tel: 090 212 69 63
6. Xuan Xuan: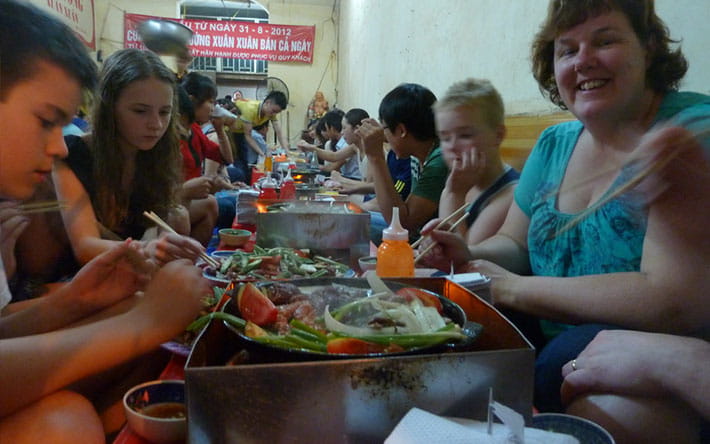 Xuan Xuan is one of the best Vietnamese barbeque restaurants in town. The menu is rather simple as you get to choose from beef, pork or goat udders which are served with vegetables and noodles. Then everything is brought out on a plate and you barbeque your own meal on a burning stove. It is a nice way of experiencing how to eat like a real local as you are seated on ankle-high stools close to other customers.
Address: 47 Ma May Tel: 09 3499 9912. Opening Time: 10:00-23:30
7. KOTO: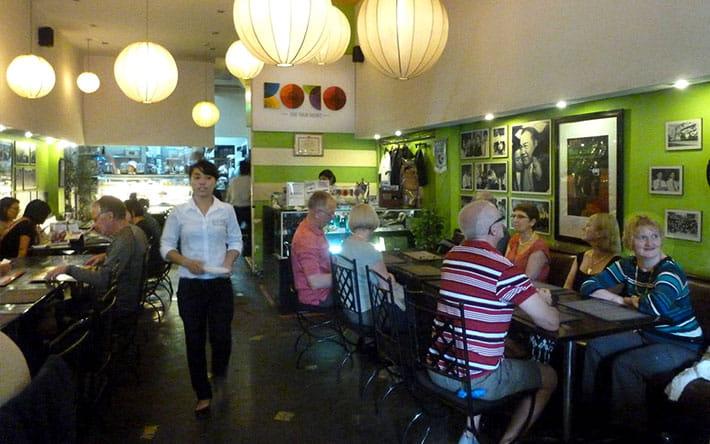 KOTO is an abbreviation which stands for 'Know One, Teach One'. The restaurant is part of a charitable project which is one of the reasons why it attracts a lot of attention. They give the disadvantage youth an opportunity to earn a living by working in the restaurant. KOTO is an all-day dining place serving Vietnamese meals and strong Vietnamese coffee. The trainees practice their hospitable skills while visitors can enjoy a great meal with warm service.
Address: 59 Van Mieu Tel: 04 4747 0337. Opening Time: 07:00-22:00
9. Green Tangerine: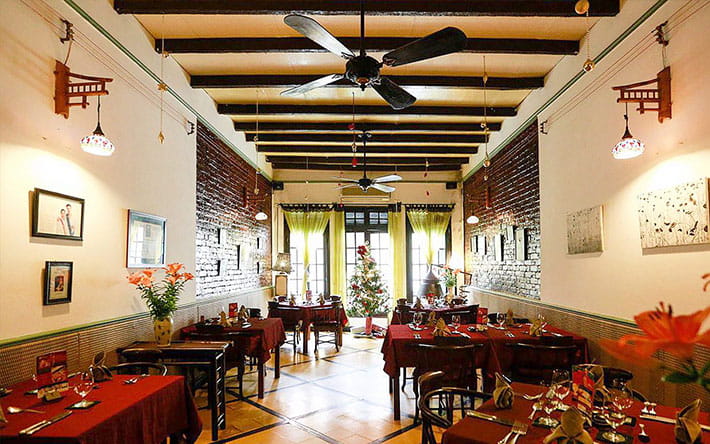 This restaurant makes some of the most artistic dishes that can be discovered in Hanoi. In Green Tangerine you can enjoy the French and Vietnamese cuisine where the chef uses both cooking techniques with a touch of art. The menu consists of well-designed meals like roasted pigeon, duck breast carpaccio and caramelized pork. Since it is highly popular among expat and travelers, you should make a reservation in advance.
Address: 48 Hang Be Tel: 04 3825 1286. Opening Time: 11:00-23:00
10. La Verticale: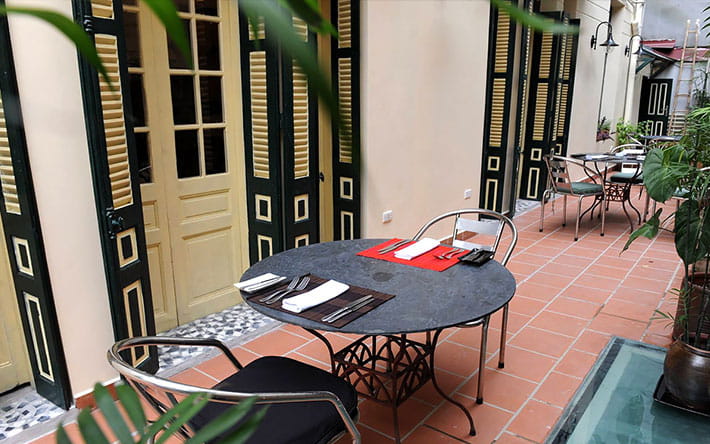 La Verticale is recognized as the best French restaurant in Hanoi. The dishes feature a combination of French gastronomy with Vietnamese ingredients and spices. You can enjoy a classic tasty meal served from both countries. The restaurant is styled in a colonial mansion with an open kitchen. The popular dishes are duck terrine, ratatouille and Mekong fruit sorbets. Moreover, there is also an excellent wine menu with unlimited choices.
Address: 19 Ngo Van So Tel: 04 3944 6317. Opening Time: 11:30-22:00
11. Pizza 4P's: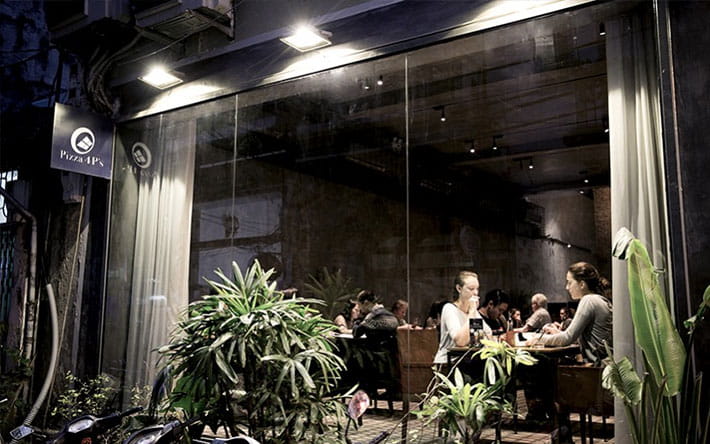 There are many pizza restaurants, but if you want to experience a unique pizza place, check out Pizza 4P's. The restaurant is set up by Japanese founder Yosuke Masuko and although it serves Italian cuisines, diners are constantly reminded of the owner's root by the omnipresence of Japanese elements: salmon, gingered pork or teriyaki beef. What makes these pizzas so special is the cheese which the restaurants proudly make themself using dairy cows that are grazing in the highlands of Dalat. Advanced reservation is recommended as the restaurant gets very full during peak hours.