Vietnam's iconic rice terraces, water buffalo, ancient pagodas and magnificent valleys have been immortalized in countless war movies and modern literature. Yet, nothing can quite prepare you for how staggering Vietnam's natural beauty truly is. Far from the provincial, undeveloped nation that it is often portrayed as, Vietnam is home to some of the best roads in terms of both functionality and scenery in all of Asia, if not the world.
Truly the best way to get a feel for this unique, beautiful country is by traveling overland. Whilst buses and trains are convenient and relatively cheap here, those with sufficient bravery should consider renting a motorbike. You certainly wouldn't be alone, the majority of road users in the country are aboard scooters and motorbikes of all kinds, and roads and infrastructure are certainly still geared towards those on two wheels. As well as being able to soak up the scenery, traveling Vietnam via motorbike also allows you added freedom that public transport simply doesn't; you are free to stop, eat and enjoy remote corners that tourists rarely get to see.
However, it should be noted that travel by motorcycle is not for everyone and some routes can be challenging. It is not advisable to attempt a challenging route with no or little experience driving a scooter, less so a motorbike. Insurance may not cover you in the case of a crash, unless you have specified in your insurance that you will be riding a motorbike, in which case the exact motorbike should be registered with your company. In any case, if this seems like too big a risk, it is also possible to hire a driver at extra cost.
1. Ha Giang: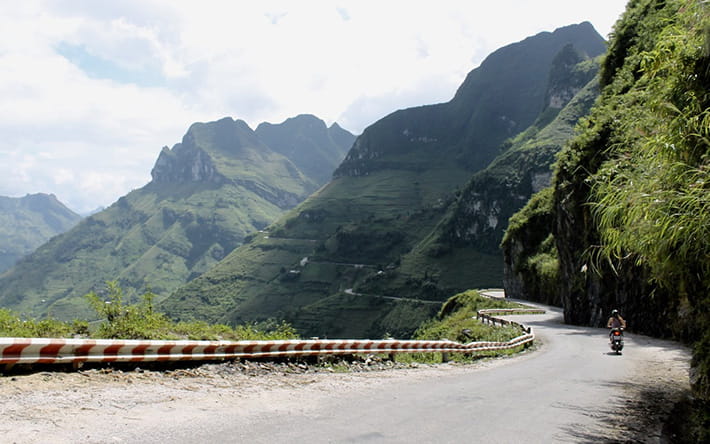 Image source: missivesfromabroad.com
Also knows as 'the Road of Happiness', the Ha Giang Pass has certainly earned its moniker. Set in Ha Giang province, along Vietnam's mysterious border with China's Yunan Province, hundreds of hairpin turns will take you through the staggering mountains and valleys of this still relatively unexplored region. Whilst the entire route is noteworthy, the trip's highlight is the 20-kilometre portion between Dong Van rock plateau and Meo Vac where you will climb through the Ma Pi Lang Pass with numerous, soaring above several vertical drops. This trip is certainly not for the faint-hearted, and motorcycle experience is absolutely imperative. The trip will take a minimum of three days, and the best time to travel is between either June and July or September and October, but keep an eye on the forecast as these periods can also bring heavy rains.
2. Hai Van Pass: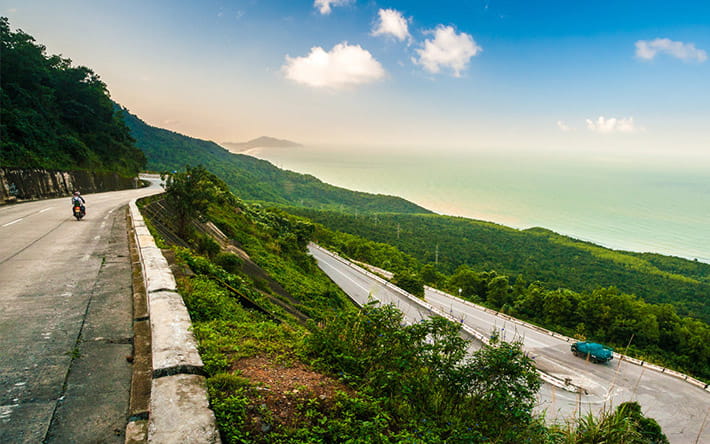 The Hai Van Pass is 19 kilometers of smooth road that meanders across a fortress of mountains which separate Da Nang from Lang Co in Hue province. Popularized by the BBC TV program Top Gear, the Hai Van pass is now one of the most popular passes to travel via motorbike in Vietnam. Not only convenient for those traveling between Hue and Da Nang o neighboring Hoi An, the pass also offers breathtaking views of mountain and coast, including several gasp-inducing twists and turns which unveil completely new and equally beautiful scenery. Until 2005, the pass was the only route that vehicles could take to pass the mountain range, which proved to be often treacherous for buses and industrial vehicles. Since the opening of the Hai Van tunnel (at 6.2 kilometers long, the tunnel is the longest in Southeast Asia), the pass has proved much safer for those choosing to take the mountain route via motorcycle. Driving the pass takes around two hours, and it is advisable to travel during the hot, dry season from around August to October. Although a less common spot for tourists, try and save time to check out the beaches and countryside around Lang Co, as well as to sample some of the regions' seafood.
3. O Quy Ho: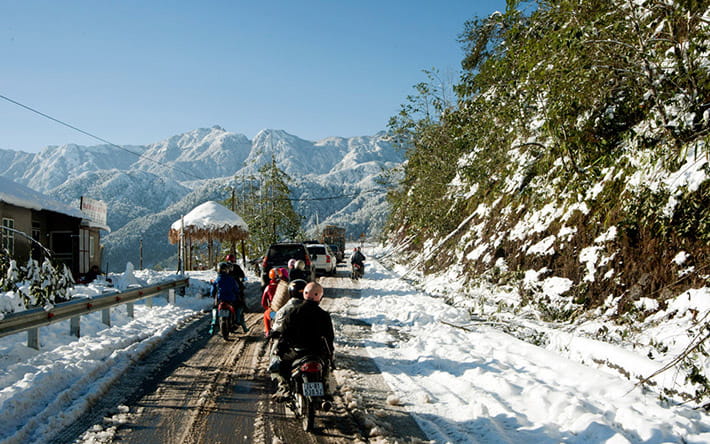 Image source: zing.vn
O Quy Ho is a true majestic collaborative work of human and nature as the pass spans 50 kilometers across National Highway 4D. Running along the Hoang Lien Song mountain range in North-western Vietnam, the pass' peak reaches an altitude of 2,000 meters in an area affectionately known as 'Heaven Gate'. As impressive as the pass may be, its plethora of hairpin turns amongst plunging abysses and rushing waterfalls makes O Quy Ho amongst the more advanced routes listed here. Travel is advised during summer months, but, again, it is important to check the forecast for rain beforehand. It is possible to complete the route in three days, but extending your trip by a day or two to enjoy the local waterfalls and villages is recommended.
4. Hanoi to Mu Cang Chai: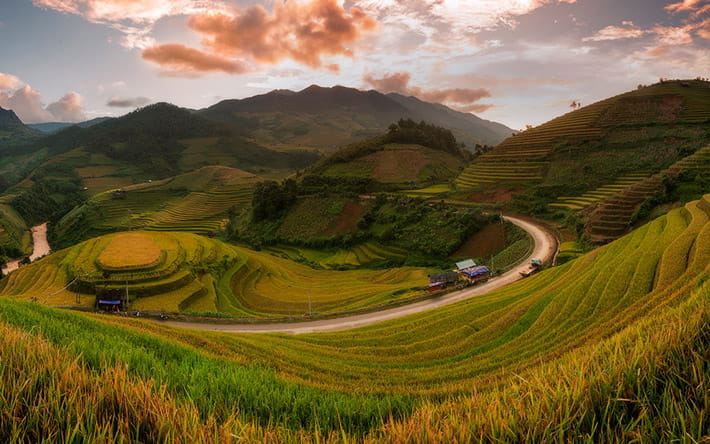 Image source: vietnammoi.vn
For picture book Vietnam, take the route from Vietnam's capital to Mu Cang, a highland commune in Yen Bai province, around 280 kilometers from Hanoi. Home to the most beautiful rice terraces in Vietnam, the route will take you from the screeching, high-octane streets of Hanoi (home to possibly the best street food on the planet) to otherworldly scenery that could be from centuries foregone. Amongst the many highlights of the route is the Khau Pha Pass. Together with O Quy Ho this makes two of the most awestruck passes in the nothern mountain region. The route should take you no more than three days, and is best avoided during rainy and cold weather, when visibility is at its lowest, and landslides (though not frequent) can occur.
5. Ho Chi Minh Trail: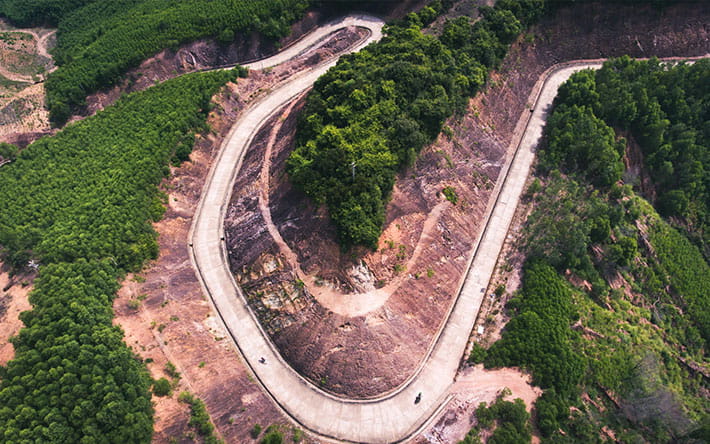 Image source: unsplash.com
Ah, the Ho Chi Minh Trail. Certainly as epic as it sounds, you will pass coffee plantations, traditional rice fields manned by farmers wearing iconic conical hats, rushing rivers festooned with swaying bamboo and fascinating hill-tribes as you travel between Vietnam's most iconic cities.
The Ho Chi Minh Road runs the length of the often-mountainous country, making it hard to underline a specific time to go, as changes in weather can happen quickly and without warning. As always, check the forecast before attempting to drive any mountainous or dangerous stretches. On average, most people spend around two weeks completing the trail, however stopping at towns such as Nha Trang, Mui Ne and Da Lat in the south, and Hoi An, Da Nang and Hue in central Vietnam is strongly recommended.