Whilst one could easily spend an eternity in Vietnam's crowded capital without getting bored, there are myriad easily-missed day trips to sate your appetite for adventure. As dynamic as Hanoi is, spending a day getting back to nature can be a refreshing change. Hanoi's situation within the cultural vantage point of Northern Vietnam means that those in the know are positively spoiled for choice when it comes to choosing a day trip. However, for those that aren't, picking an excursion can be tricky.
That's where we come in! Here's our list of the nine best day trips from Hanoi.
1. Halong Bay: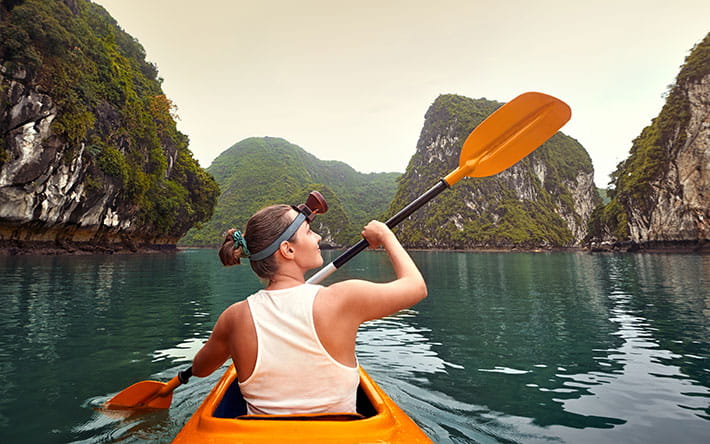 No list regarding 'the best anything to do in Vietnam' would be worth its salt without getting Halong Bay in there somewhere. Halong Bay is picture-perfect Vietnam at its most iconic, and sits at around three hours' drive from the capital. Whilst Halong town is about as beautiful as my big toe, the bay is the one-of-its-kind among the natural gifts the world over, with thousands of green karst peaks erupting from sparkling turquoise surf. There's no getting around paying the extra for the boat trip, this takes your through the intricate maze of mountains, and usually includes lunch and admission to beaches and caves.
2. Hoa Lu: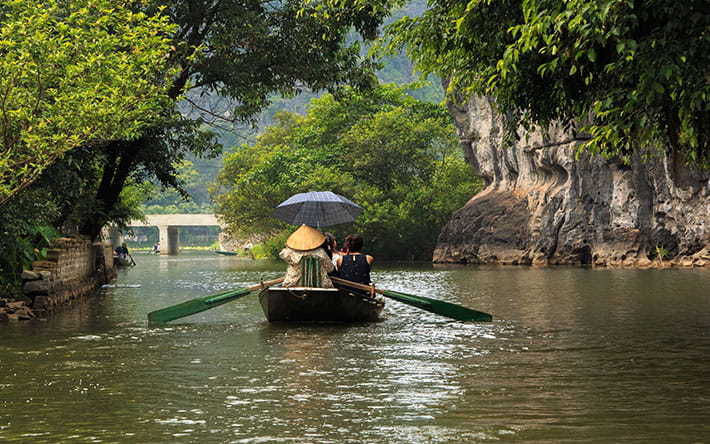 Hoa Lu was once Vietnam's capital city, and sits 100 kilometres south of current capital, Hanoi. Between 900-1100 AD, Hoa Lu was the epicentre of government and commerce in the country, and vestiges of its proud history still stand today. Whilst the citadel and building from back then have long-since crumbled, the stunning gate to the city is still visible, as well as several impressive temples such as Le Dai Hanh, Dinh Tien Hoang and Nhat Tru, which are all well worth a visit. Watch out – during public and Buddhist holidays, the whole place can be over-run with domestic tourists, to check the calendar beforehand.
3. Ba Vi National Park: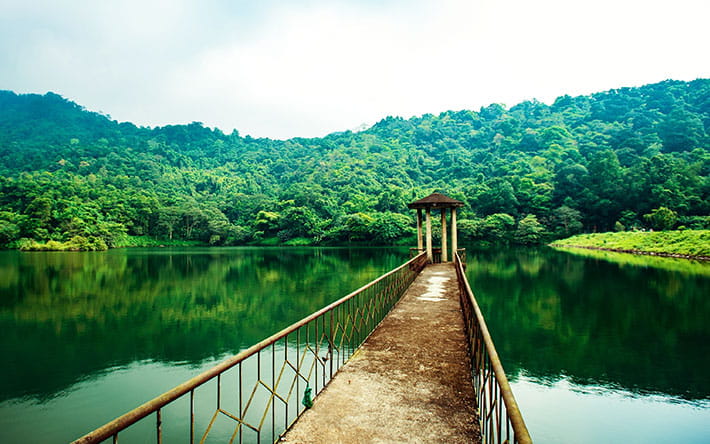 To truly escape the fumes of Hanoi, head two hours west to Ba Vi National Park. Three mountainous peaks comprise the main sights of the park. On the central and second tallest peak which is known in Vietnamese as Tan Vien, you will find a shrine dating back to the 11th century. The shrine is devoted to the Buddhist Mountain God, who will protect you for the rest of your hike! Make sure you've done all of the trails you can before you get too tied to return, as all are unique and equally special. A spa awaits you on the way down, so don't forget to reward yourself.
4. Trang An: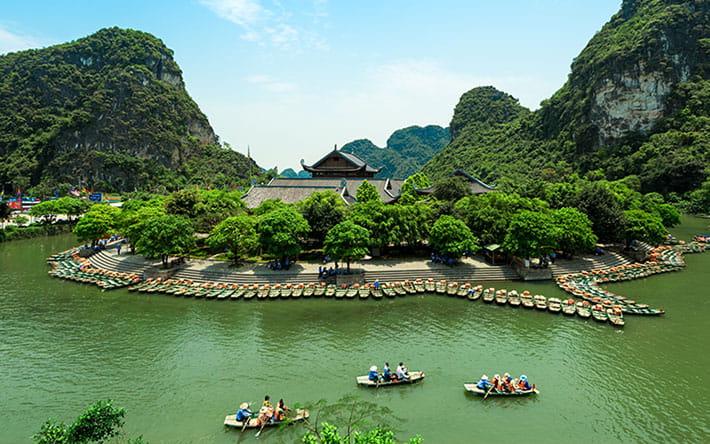 Trang An is ostensibly the most popular day trips from Hanoi, a title it deserves due to its beautiful natural scenery. Even the journey to get there is a trip, as you will pass small hamlets and townships in Ninh Binh province, before getting into boats and taking the rest of the journey by on the Sao Khe River. Your guide will entertain you as she rows – occasionally with her feet, and more often than not whilst on the phone/peeling an orange/smoking a cigarette, too! At Trang An, the boat ride continues, and you'll float peacefully in and out of prehistoric caves, past beautiful limestone mountains and past views that will make you feel like Indiana Jones.
5. Tam Coc: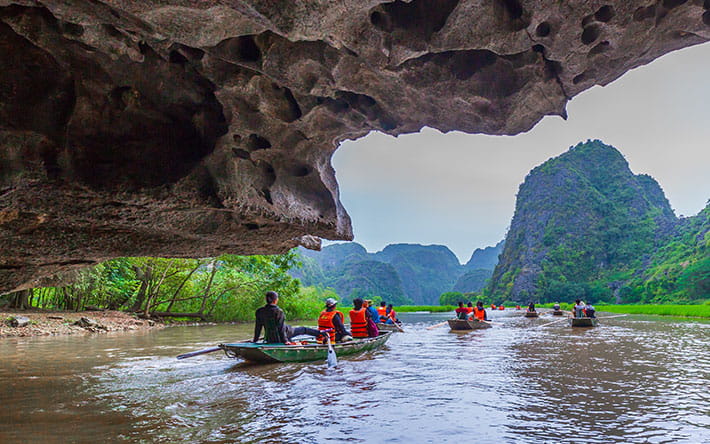 Once you've finished your boat trip round Trang An (which usually takes around two hours), you'd be crazy not to pop round the corner to Tam Coc. Tam Coc, only ten minutes from Trang An, boasts another vast array of karst mountains which, tour depending, can be viewed via bike or boat ride. Just book a tour from the Old Quarter, or catch a local bus from Hanoi (or a private one, arranged from any tourism office) and then rent a motorbike for 100,000 VND to explore the town yourself.
6. Phat Diem Cathedral: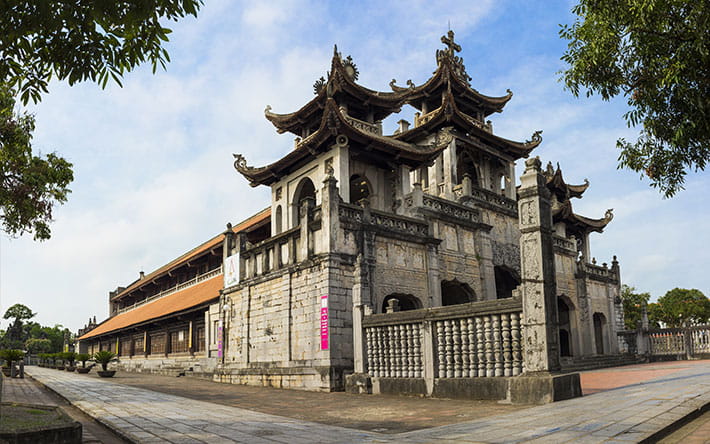 Built in 1892, Phat Diem Cathedral is still used by Catholics today, despite a brief closing in 1954. Book lovers may remember the church from Graham Greene's magnum opus, The Quiet American (1955).
7. Mai Chau Valley: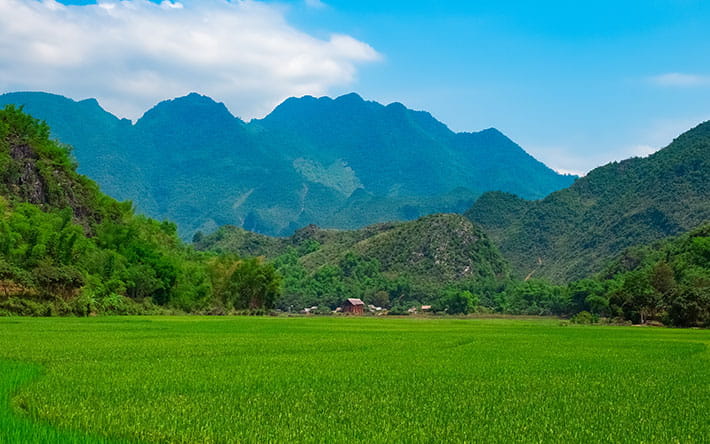 Rice paddies and a horizon of jagged mountain ridges make Mai Chau a picturesque day trip from Hanoi. At just over three-hours way, Mai Chau is one of the further-away destinations on this list, but trust us – it's well worth it. For those interested in the traditional lives of Vietnamese ethnic tribes, this place is a must-see, as homestays are common and make for a great, authentic experience, but day trips are also common. Biking or trekking through the remote villages is extremely rewarding and lucky visitors might also get peek of some rare and exotic wildlife. For unlucky ones, a visit to the Endangered Animal Rescue Centre is well worth a visit.
8. Bat Trang Village: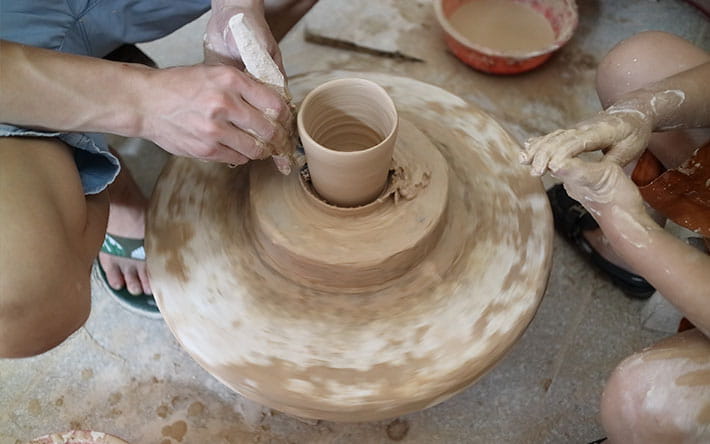 For those looking for a shorter drive, Bat Trang Village is just thirty minutes from Hanoi's Old Quarter, so it's a low-commitment excursion. The villages' distinctive porcelain and ceramic goods have brought fame to the area from throughout Asia. Observing the artisans at work is beautiful and relaxing, and there is the opportunity to pick up an authentic piece for a great price.
9. Huong Pagoda (Perfume Pagoda):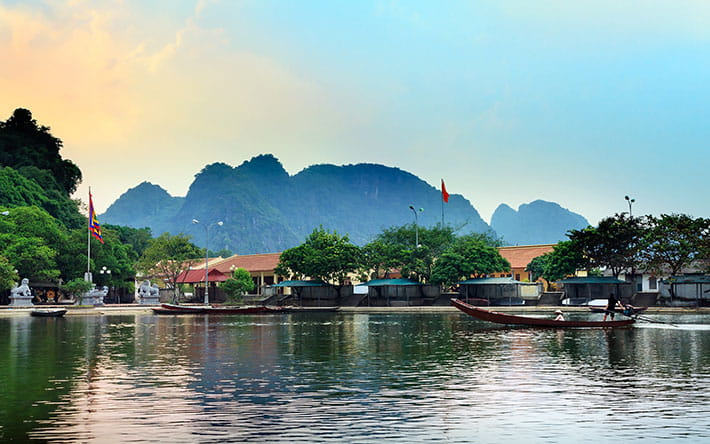 Perfume Pagoda is actually an enormous complex of Buddhist pagodas, as well as temples and communal houses. The complex is centred around Huong Son Cave, referred to as Chua Trong (Inner Pagoda), where the central temple is located. At peak times, generally between February to April, Perfume Pagoda is heaving with Vietnamese Buddhists making pilgrimages to the holy site, which is fascinating in itself, if a little crowded.