With more than 35 fully operational golf courses, some of which were designed by famed golf course designers such as Greg Norman, Colin Montgomerie and Luke Donald, and around 65 more courses planned for the next 5 years, it's safe to say that Vietnam should also be up for consideration if one's intention is to explore the Asian golf tour scenes.
Below are 7 of the most noteworthy golf courses for avid golfers coming into Vietnam:
1. Bluffs Ho Tram Strip: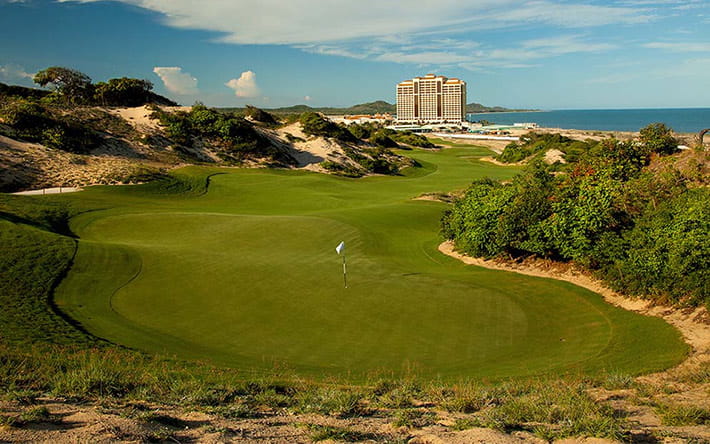 Image source: happygreen.com.vn
Greg Norman-designed. Link-style championship-worthy golf course. This award-winning 18-hole courses uses the natural environment as an added challenge and variety to the course, slightly changing depending on the season and weather. Boasting stunning panoramic view of the ocean and large variety of high-end services, The Bluff Ho Tram Strip is definitely a place to visit if you are an avid golfer and happens to stay in Ho Chi Minh City.
2. Dalat Palace: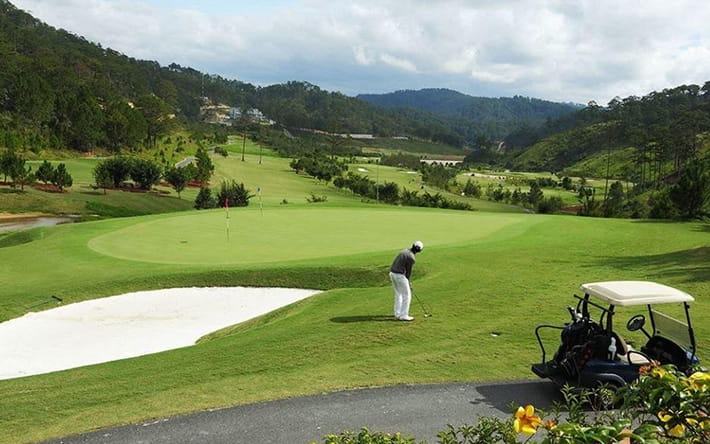 Image source: golfbooking.com.vn
Originally built in 1920's by the French, Dalat Palace is one of the oldest gold course in Vietnam. Withstanding the test of times, it remains one of the most famous and worthwhile golf course one should visit. Only a short distance from the center of Dalat, Dalat Palace is the only one in Vietnam that offers Bent Grass green courses, found only in Europe thanks to the similar mild, cool climate unique to Dalat.
3. The Dunes: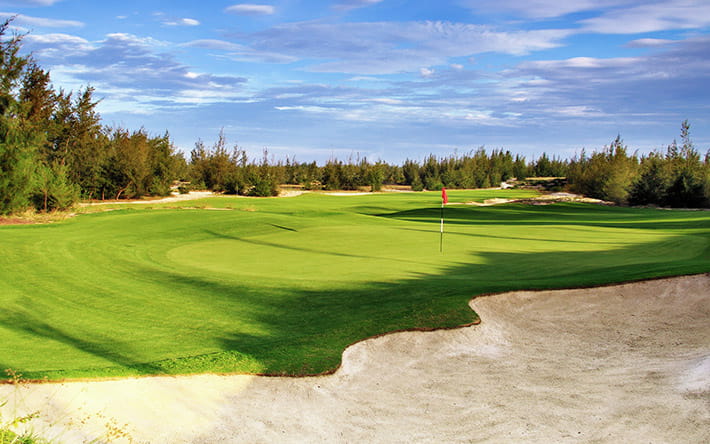 Image source: dananggolfclub.com
Another of Greg Normans brilliant link-style golf course, The Dunes is a 7,160-yard, 18-hole course that could easily be one of Asia's best. The design heavily relies on the naturally arranged sand dunes for it's uniqueness, elevations and firm fast fairways. Alongside the natural rugged background and extensive facilities and services, it is no doubt the go-to golf course when visiting Da Nang.
4. Ba Na Hills: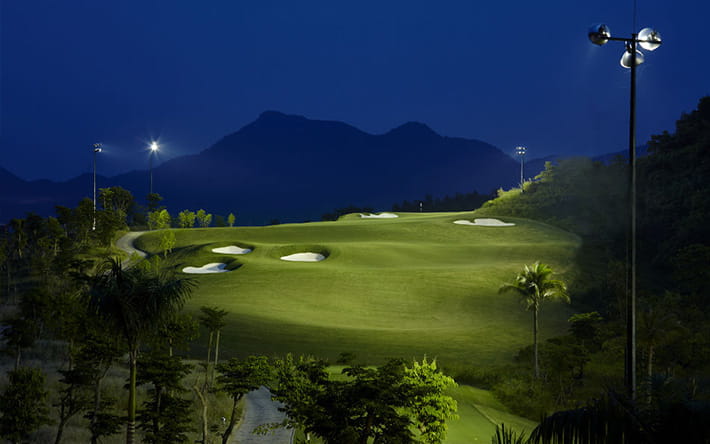 Image source: hoteljob.vn
Despite being a newcomer compare to other well-known operating golf courses, Ba Na Hills golf course makes it up by being the first course to be designed by the former number one golfer, Luke Donald. Consisting of a good balance between simple and challenging difficulty throughout, the course appeases all crowds, whether veteran or new and the modern clubhouse and excellent services that IMG provided gives you more reasons to stay for the weekend.
5. Montgomerie Links: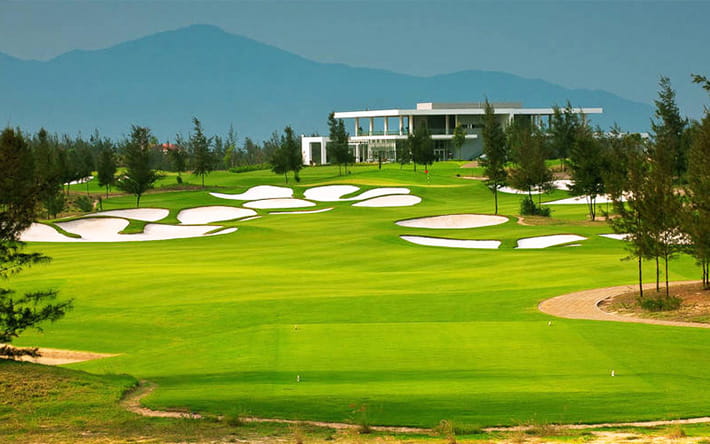 Image source: unigolf.vn
A traditional link-style championship course, Montgomerie Links is located in Quang Nam Province, but only a 20 minute drive from Da Nang. Designed by the golf legend Colin Montgomerie, this 5-star quality course offers challenges suitable for both beginners and avid golfers alike. Not only stopping there, the huge range of options and after-service for customers to choose from makes Montgomerie Links experience worthwhile even pass the golfing sessions.
6. Vinpearl Phu Quoc: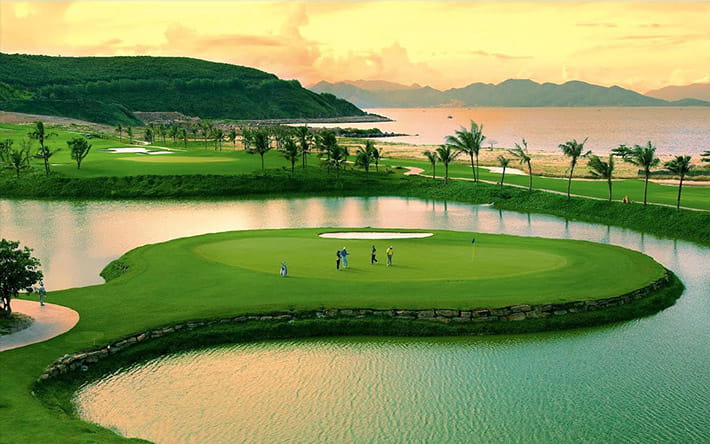 Image source: unigolf.vn
Placed within the unspoiled woodlands, on an island in the gulf of Thailand, the location itself already makes the golf course a must-go destination any golf savvy individuals. Vinpearl Phu Quoc's golf course allows golfers the pleasure to play under 3 different backdrops: the Forrest, the Sea or the Mountain. The clubhouse, though small, are superb and services are to be expected for a course managed by IMG.
7. BRG Kings Island Golf Resort: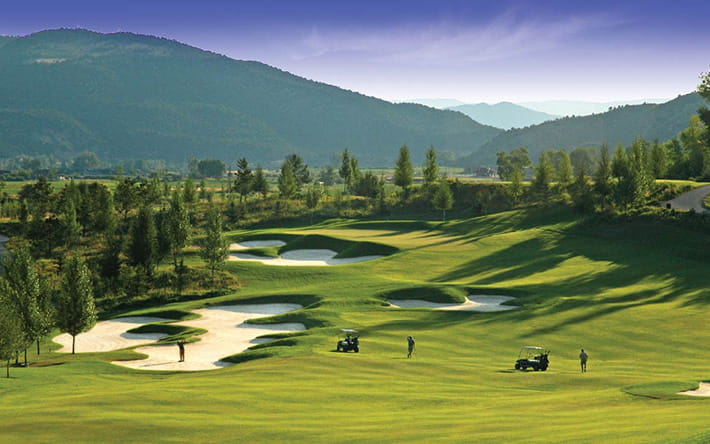 Image source: brgkingsislandgolf.vn
BRG Kings Island Golf course itself is located on Dong Mo River, designed by Robert McFarland. Distance away from civilization, the rugged greens and mountain-view gives off an exotic beauty to the course, even using the natural water hazards as additional and unique challenges for visiting golfers. King Islands golf resort, as to be expected with other high-end golf resort, offers an excellent and huge array of service standard and options.